State-of-the-Art Treatment Combined with Compassionate Care
David Goldfarb, DO, FACS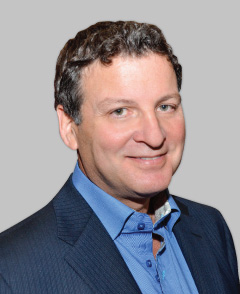 David Goldfarb, DO, FACS is a specialist who wears many hats – an innovator and an inventor.
The first Medical Director of the Voice Center at the University Medical Center at Princeton, he introduced state-of-the-art equipment for diagnosing vocal problems to Princeton. Previously, patients had to travel to Philadelphia or New York City to access this technology to obtain a detailed, objective evaluation of vocal cord activity.
Dr. Goldfarb recently invented a new experimental wearable device for treating obstructive sleep apnea. The device works by restoring the normal resting tone to throat and tongue muscle to keep the airway open (patent pending).
Dr. Goldfarb invented a laryngeal pacemaker to restore movement to paralyzed vocal cords. He has obtained a patent for this experimental procedure.
Dr. Goldfarb is board certified in Otolaryngology. He was chairman of the Otolaryngology - Head & Neck Surgery Department at the Penn Medicine Princeton Medical Center from 1994-2020 and he is a Clinical Instructor of Otolaryngology at Thomas Jefferson University Hospital in Philadelphia. He was been appointed by the American Academy of Otolaryngology - Head & Neck Surgery to several committees such as the credentials committee and the Medical Devices and Drug Committees.
Dr. Goldfarb's Medical Highlights
Dr. Goldfarb started in private practice in Princeton, N.J. 1992
Dr. Goldfarb is Board Certified in Otolaryngology, and is a Fellow of the American Academy of Otolaryngology - Head and Neck Surgery
On the medical staff at Penn Medicine Princeton Medical Center
Clinical Instructor of Otolaryngology, Thomas Jefferson University Hospital, Philadelphia, P.A
Chief of Otolaryngology - Head & Neck Surgery, Penn Medicine Princeton Medical Center, 1994 - 2020
Medical Director, Voice Center, Penn Medicine Princeton Medical Center, 1994-1995
Received Medical degree in 1986 from the University of Medicine and Dentistry of New Jersey-(UMDNJ-SOM)
Completed Internship at UMDNJ-SOM, 1987
Completed General surgery residency at the Medical College of Pennsylvania, 1988
Completed Otolaryngology - Head and Neck Surgery at Thomas Jefferson University Hospital in Philadelphia, 1992
Involved in original medical research and published many articles in medical journals
Invented the Laryngeal Pacemaker, intended to be used for the treatment of vocal fold paralysis
Member of the Academy of Facial Plastic and Reconstructive Surgery
Fellow of the American Academy of Otolaryngology - Head & Neck Surgery (AAO-HNS)
Named one of America's top physicians in "Guide to America's Top Physicians" by the Consumer Research Council of America in Washington, DC